Sherry Flumerfelt
Executive Director
Sherry has spent twenty-four years in the nonprofit sector working with coastal communities on ocean health issues. She joined the Western Flyer Foundation as our first executive director in July 2022. Prior to this, she spent eight years as the founding executive director of the Monterey Bay Fisheries Trust, where she worked to support local, sustainable fisheries. Sherry also spent eight years as a consultant for organizations such as the Environmental Defense Fund, the Marine Life Protection Act Initiative, the California Fisheries Fund, and EcoTrust. Between 1999 and 2007, she was a program manager at the Coral Reef Alliance, where she led education and conservation programs in Fiji, Micronesia, Indonesia, Hawaii, Papua New Guinea, and Bonaire.
Sherry was born and raised in London, Ontario, Canada, and holds an MA in Anthropology and International Development from the University of Guelph and a BA in Anthropology from McMaster University. She lives in Pacific Grove with her two teenage sons.
Rebecca Mostow, Ph.D.
Education Program Manager
Rebecca Mostow is a coastal ecologist and educator with over a decade of experience teaching, developing, and running innovative and experiential science education programs. Rebecca holds a B.A. in Biology from Oberlin College and a Ph.D. in Integrative Biology from Oregon State University. Rebecca's dissertation research used ecological, genetic, and participatory science methods to investigate a novel hybrid beachgrass in the Pacific Northwest. Throughout her career, Rebecca has integrated scientific research with a love of community outreach and teaching. She has conducted ecological research and education all along the Pacific Coast, from Southeast Alaska to Panama, in wide-ranging topics from seabird population dynamics to the biochemistry of kelp reproduction. She has taught students of all ages, from preschool through retirement, and worked in diverse organizations including Port Townsend Marine Science Center, Bureau of Land Management, and Alaska Maritime National Wildlife Refuge.
Katie Thomas, Ph.D.
Science Program Manager
Katie is a marine biologist and visual ecologist with 13 years of experience in shipboard ocean research and science education. Hands-on learning in marine field courses and aboard research vessels hooked Katie on science early in her career, and she is thrilled to work with the Western Flyer Foundation to broaden student access to these types of experiences. Katie earned a B.S. in Marine Biology from the University of Oregon and a Ph.D. in Biology from Duke University. During her research career, she has worked in natural history museums, universities, field stations, and nonprofits, and has been on fourteen multi-day research cruises and numerous day trips to sample marine environments. Katie is passionate about science outreach and has engaged with people of all ages via public talks, science fairs, non-specialist courses, K-12 classroom visits, press interviews, and online blogs and outreach. She has over a decade of teaching experience engaging with diverse students in classroom, laboratory, and marine field courses, as well as formal training in developing educational materials and courses.
Captain Paul Tate
Captain Paul is a US Coast Guard Certified Master with decades of experience working on research vessels, fishing boats, and private yachts.
Paul started his maritime career with the US Coast Guard in the 1960s, where he became interested in marine science and commercial fishing. He pursued a BS in Fisheries Management from the University of Washington, then spent the next ten years as a fisheries biologist with the Alaska Department of Fish & Game. In the late 1970s, Paul decided to try his hand at commercial fishing and became the Captain of a Bering Sea crab boat, where he spent the next five years.
As much as Captain Paul loved being a commercial fisherman, he and his wife decided it was time for an adventure. In 1984, they and their young son went cruising by sail throughout Mexico, Central America, and the eastern part of the United States. After a stretch running vessel deliveries, he joined Carlson Companies of Minneapolis, a private international company engaged in hospitality, travel, and corporate incentive. There he enjoyed a mix of people, ports, and Atlantic waters for eighteen years, working as the Captain of motor yachts between 90 and 145 feet. Nevertheless, he felt drawn back to Pacific Northwest waters and marine science, and in 2005, heeded the call.
Paul and a partner refitted the retired 108 ft Bering Sea crabber Norseman as a research vessel. He captained the Norseman for ten years, sailing on 54 research and exploration voyages from Southeast Alaska to Arctic Ocean waters. He also did a short stint with Un-Cruise Adventures as Chief Mate, worked on Oregon State University's R/V Elakha conducting coastal and estuarine research, and has spent the past six years as Captain of the US Geological Survey's R/V Alaskan Gyre.
In addition to a BS in Fisheries Management from UW, Captain Paul has received training at the US Navy Fleet Sonar School in Florida and was certified as a Boat Oregon Instructor to lead boating safety courses. We are thrilled to welcome such a seasoned Captain to our team as we launch this next exciting phase of the Western Flyer's journey!
Chris Chase
Restoration Director
Chris Chase brings over thirty years of experience to the Western Flyer Foundation
as a shipwright, project manager, operational director, and, for nearly twenty years,
an owner of the Port Townsend Shipwrights. When the Western Flyer first arrived
in Port Townsend, Chris was the lead shipwright and foreman of the Western
Flyer restoration. What began as just another restoration for him soon turned into a
deep passion and course-changing event.
Caught up by the history of the Western Flyer, the writings of those who sailed on
her, and the lives she had touched, Chris quickly recognized this project was
unique. It had the potential to strike a spark deep into the lives of the next
generation of scientists and young artists.
Following his intuition, Chris embarked on the next chapter of his life. In 2017 he
transitioned from shipwright overseeing the daily restoration to the broader role of
Project Director working directly for the Western Flyer Foundation. Chris has also
taken on public relations and filmmaker in his new role, exploring his creativity by
bringing the Western Flyer story to life.
As a shipwright and project lead, Chris has overseen the restoration of countless
classic sailing vessels, fishing vessels, and adventure yachts from California to
Alaska. Over his thirty years in the marine industry, Chris has worked alongside
numerous environmental nonprofits and maritime foundations, including the
Northwest Maritime Foundation, Deep Green Wilderness, S/V Martha Foundation,
and the Sound Experience Foundation. He has also served as a board member for
the NW School of Wooden Boat Building in Port Townsend, WA.
Julie Flanders
Accountant
Julie oversees the Western Flyer Foundation's bookkeeping, payroll, and accounting services. She has experience as a CFO and a CPA, and runs her own bookkeeping and consulting business. Julie holds a Bachelor's degree in Accounting from Santa Clara University.
Andy Beahrs
Grants Manager
Andy Beahrs is the author of the food history and memoir Twain's Feast: Searching for America's Lost Foods in the Footsteps of Samuel Clemens, and co-host with Nick Offerman of the Audible Original based on the book. His work also includes the historical novels The Windcatcher and The Sin-Eaters, as well as essays and articles for The New York Times, The Atlantic, Virginia Quarterly review, and many other publications. A volunteer diver with the Reef Check Kelp Forest Program and with Monterey's Giant Giant Kelp Restoration Project, he lives in Berkeley, California with his family.
Tracy Corbin
Data Operations
Tracy assists with Western Flyer Foundation's data systems and processes. As a consultant, she specializes in providing operational support to nonprofits and small businesses. She previously held roles in operations and membership management with the Bay Area Ridge Trail Council and San Francisco Baykeeper.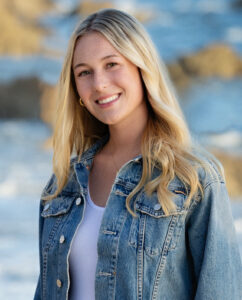 Kalei Gregg
Summer Intern
Kalei is a summer intern helping with Western Flyer Foundation merchandise. She is a sophomore at New York University studying politics and journalism. Kalei grew up in Newport Beach, California.
Emily Fries
Summer Intern
Emily Fries is in the final term of the Science Illustration Graduate Program at CSUMB. Originally from WA, she went to college at Western Washington University to study Elementary Education, with a focus in general science education. After 5 years working in the Seattle school district, she was drawn to pursue science illustration after wanting to explore other ways to communicate science concepts to the masses. This summer she will work with the education program to inspire an excitement for ecological science concepts and produce an illustration describing the state-of-the-art scientific instrumentation aboard the Western Flyer.