By William Gilly, Ph.D, Board Member and Chief Scientist with the Western Flyer Foundation
June 3, 2022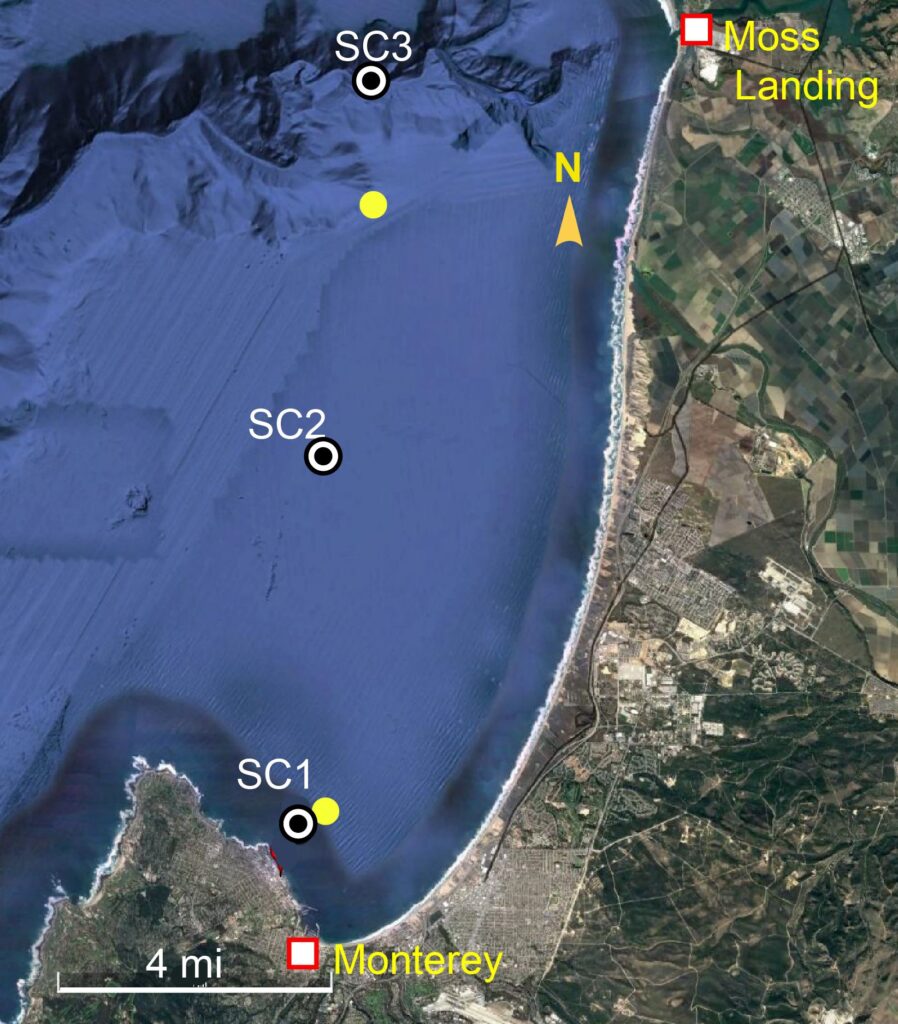 Educational programs to be carried out on the Western Flyer in Monterey Bay are currently being developed through a collaboration of Western Flyer Foundation, Hopkins Marine Station of Stanford University, and the Naval Postgraduate School. The SEACOAST project (STEM Experiential Approach to Critical Ocean and Atmosphere Science Topics), supported by a grant from the US Office of Naval Research, is creating a series of background modules that will cover aspects of ocean and atmospheric science that are relevant to Monterey Bay and the diverse ecosystems it supports. These modules will be used by teachers in classrooms to provide background information and as guides to at-sea classroom activities on the Western Flyer that will employ a variety of instruments to collect data as part of a long-term monitoring program.
The Western Flyer will operate out of Monterey and Moss Landing allowing it to focus on a line of study sites (SC1-3) that runs north-south between the Monterey Peninsula and the submarine canyon off Moss Landing. Even though the sites are at a similar depth of 100-150 m, each one has its own seabed features and associated fauna. SC1 includes rocky subtidal reefs; SC2 is relatively flat and sandy; and SC3 is on the canyon slope. These sites are relatively close to shore, making them easy to access with minimal transit time.
On April 23 and 24 we held our first at-sea feasibility tests of SEACOAST STEM activities using the NOAA vessel RV Fulmar out of Monterey. WFF Education Director Emily Gottlieb, Board Member William Gilly, and SEACOAST evaluator Maia Werner-Avidon were accompanied by a group of local teachers and collaborators from Naval Postgraduate School, Monterey Bay National Marine Sanctuary, Monterey Bay Fisheries Trust, and NOAA Southwest Science Fisheries Center La Jolla. During the two days we visited each of the study areas and deployed a water-column profiler to measure temperature, salinity, oxygen, and chlorophyll from the surface to seafloor. We also used a scientific echosounder on the Fulmar to monitor biomass (of small fish and larger invertebrates) in the water column. Finally, we carried out plankton tows and examined the tiny zooplankton using a microscope equipped with an HD video camera and monitor. We will routinely employ these instruments on classroom cruises with the Western Flyer.
Our cruise was successful, in that we became convinced that the activities and instruments were suitable for at-sea activities on the Western Flyer. But the real success came in the demonstration of the amazing biodiversity and richness of Monterey Bay, with three different ecosystems evident at each of the study sites. In the area around SC1 we saw sonar images of large masses of spawning squid, and on Sunday 20 or more purse seiners, modern descendants of the Western Flyer, were prowling the area searching for even larger masses of squid. Between SC2 and SC3 we sailed through an armada of sport vessels fishing for salmon, and on the sonar we could see layers of organisms, probably anchovies, on which the salmon feed. Finally, at SC3 we had humpback whales feeding next the boat as we deployed the profiler. Each site had its own water-column properties, bottom structure, prey type, and predators.
It was amazing to experience, first-hand, how food-webs so obviously linked predators (including humans!) to their favored prey at each of the sites — at the same time but not at the same place. What causes the differences between the sites? How is the ecosystem at one site related to that at the others? What moves between these systems? What causes oceanic variation between the sites, and how dynamic is this variation? These are all excellent questions that will lead to the oceanography and meteorology lesson plans being developed by SEACOAST, and our future monitoring programs will help provide answers. Monterey Bay will be an incredible classroom!
Posted in Stories & Updates