Recent Restoration Episodes
Work to Date
The Western Flyer was acquired in February 2015, but due to decades of neglect by previous owners, and two recent sinking episodes, significant rehabilitation and restoration is required to return the vessel to service. Following a rigorous selection process that was based upon evaluation of cost estimates and qualifications to conduct historically-accurate restoration activities, the Port Townsend Shipwrights Cooperative was selected to conduct restoration and repair activities on the Western Flyer in June 2015.
Between June 2015 and July 2016, the Western Flyer was cleaned to remove all accumulated mud, debris, and non-functional equipment. The vessel was thoroughly surveyed (using laser stations in accordance with HAER standards), and the hull shape was stabilized with external scaffolding. New plans were drafted to HAER standards in the vessel's "as found" condition. The fish-hold framing was fully documented and removed. Bilge stringers, beam shelves and sheer clamps were removed, and approximately 10% of the rotted wood was removed and replaced with in-kind material. Funding for this work was provided by John Gregg, the founder of the Western Flyer Foundation. Because the foundation was newly created and awaiting federal approval as a non-profit, a modest amount of fundraising was conducted through the North West Maritime Center (NWMC) to gain public and community involvement. Public fundraising resulted in about $10,000.
In February 2017 the Western Flyer was added to the National Register of Historic Places.
In July 2017, the next phase of restoration was begun in earnest due to a donation of $100,000 from a private donor. The deck was removed and preserved for potential re-use. Critical restoration of the frames and other hull architecture were begun. Current framing replacement/restoration activities include the replacement of 8 pairs of sawn frames, 28 pairs of steam-bent frames, 50 feet of deck beam shelf materials, 50 feet of sheer clamps, installation of 50 feet of bilge stringers, 4 new deck beams, and 50 feet of sheer planking. These activities, to be completed in late 2017, are crucial to establish a structurally sound platform for additional frame repairs, to be followed by planking and other hull restoration activities.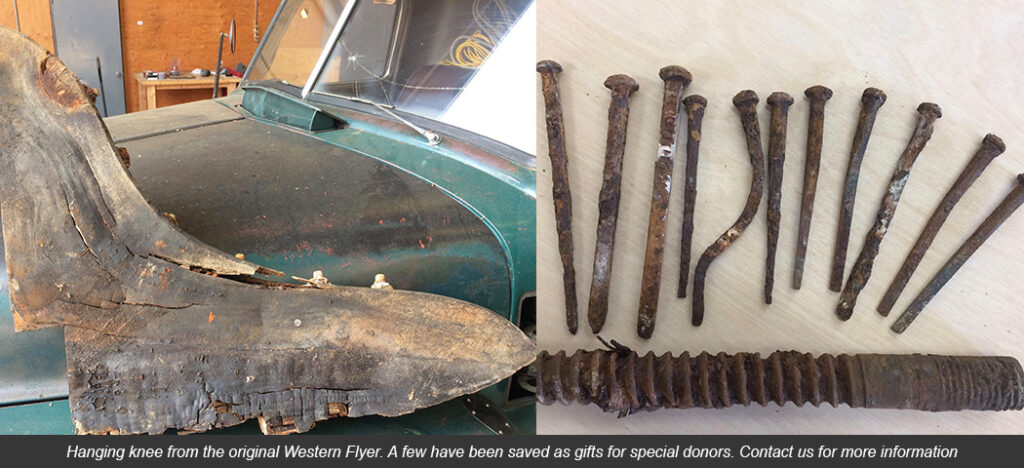 The deck house of the Flyer is original and suitable for rehabilitation, but the fly bridge was replaced by an aluminum structure in the 1980's and must therefore be restored. All work proposed here will be carried out by the Port Townsend Shipwrights Cooperative. Rotted or decayed structural material in the deck house will be replaced with locally sourced in-kind Douglas Fir. All paint will be stripped, and surfaces will be sanded, prepped and varnished or painted to match the original color. The cabin roof will be replaced with in-kind materials, and a new fly bridge will be constructed based on the original design (from historic photographs and drawings) and construction methods. Some of this work has already commenced, with the removal of the deck-house roof and cleaning. In addition, the horseshoe (stern) will be completely disassembled and rebuilt using original construction methods and in-kind materials.